Swedish Massage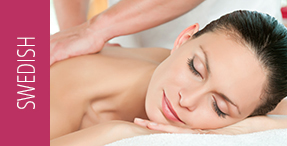 What is Swedish Massage?
Swedish massage is the most common form of massage, and the best for beginning patients. It's also what many people think of when they think of a massage. Utilizing long, gliding, gentle strokes as well as more intense, pressured movements, Swedish massage therapy eases muscle tension and improves circulation.
Swedish massage goes beyond just relaxation. It reduces toxins in the muscles and increase oxygen levels in the blood.
What makes Swedish massage therapy so great for beginners is that since it's what most people think of when massage comes to mind, they more or less know what to expect. It also has the potential to be gentler than other techniques, such as a deep tissue or Thai massage. Swedish massages range in pressure depending on the therapist and preference of the patient, so the intensity can easily be adjusted by simply saying "harder" or "softer please!"
Swedish massage offers not only physical benefits, but psychological ones as well. According to a study done by National Center for Complementary and Alternative Medicine, routine 45 minute Swedish massage sessions were shown to significantly decrease stress levels in patients.
If you're on the fence still about massage and its benefits, schedule a Swedish massage today!
Want to Experience a Wonderful Swedish Massage with an Experienced Professional?
Please Call Pamela at 319.621.3523
to make your Appointment