Sticks and Stones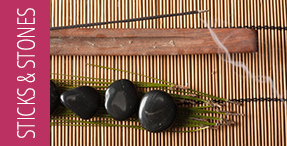 What is Sticks and Stones Massage?
Sticks and Stones is a combination of warm Bamboo and Hot Stones Massage, developed by Pamela herself. Various sized bamboo sticks knead the skin and stretch the fascia, while hot stones placed on the body open up energy flow and induce a deep relaxation.
How Does It Work?
For the bamboo portion of the massage, specially made bamboo rollers knead the muscles, effectively complimenting the masseuse's hands. Prior to the massage, they are warmed up to provide as much relaxation as possible. The tension in muscles are kneaded out, and instead replaced with a feeling of complete tranquility.
As for the Hot Stone part of the massage, basalt stones are heated prior to the appointment, and either used by the masseuse as tools or placed on key parts of the body, adding a pleasant, warm sensation and enhancing feelings of peace and relaxation.
What Are the Health Benefits?
What makes Sticks and Stones so great is that it combines the deeper pressure that's easy on both the masseuse's and client's body of bamboo massage with the warm, relaxing aspects of Hot Stone massage. The result is tension relief for the body and peaceful serenity for the mind.
Book an appointment today and experience it for yourself.
Want to Experience a Wonderful Sticks and Stones Massage with an Experienced Professional?
Please Call Pamela at 319.621.3523
to make your Appointment